During Washington Birthday remarks in 1866 President Andrew Johnson identified Northerners Wendell Phillips, Senator Charles Sumner, and Congress Thaddeus Stevens as being just as much traitors to their country as the rebels who fought against the Union for four bloody years. Two years later Thaddeus Stevens, as chairman of the House Reconstruction Committee, reported to the full House that his committee recommended the impeachment of Andrew Johnson.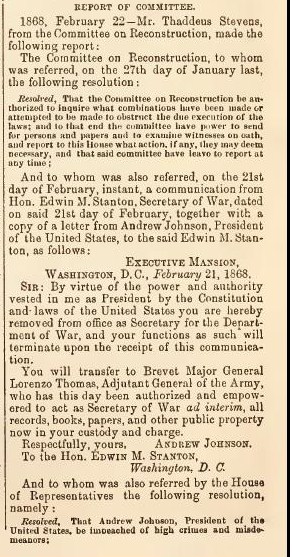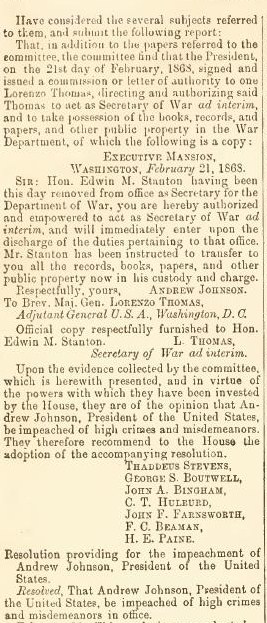 _____________________________________
The trigger for the February 22nd report in favor of impeachment was President Johnson's attempt to replace War secretary Edwin M. Stanton with General Lorenzo Thomas the day before. When word of the president's action reached the House,
"the reaction was even more impassioned [than the Senate]. When the Speaker received notification from Stanton that the secretary had been ousted, he informed the House. Clusters of excited members formed. Stevens, leaning on Bingham's arm, moved around from group to group, constantly repeating, "Didn't I tell you so? What good did our moderation do you? If you don't kill the beast, it will kill you." John Covode of Pennsylvania offered a motion to impeach the president of high crimes and misdemeanors, and the proposal was referred to the Reconstruction Committee.[1]
You can read more about the events of February 22, 1868 at The New-York Times. Mr. Stevens looked better than usual as he took his seat in the House chamber before his report.
Mr. Trefousse mentioned another of the "traitors" on the same page of his book. When the news that Johnson was again trying to oust Stanton from the War Office reached the Senate, "Sumner sent his famous one-word telegram, 'Stick.'"
[1] Trefousse, Hans L. Andrew Johnson: A Biography. New York: W.W. Norton & Company, Inc., 1997. Print. page 313. ↩